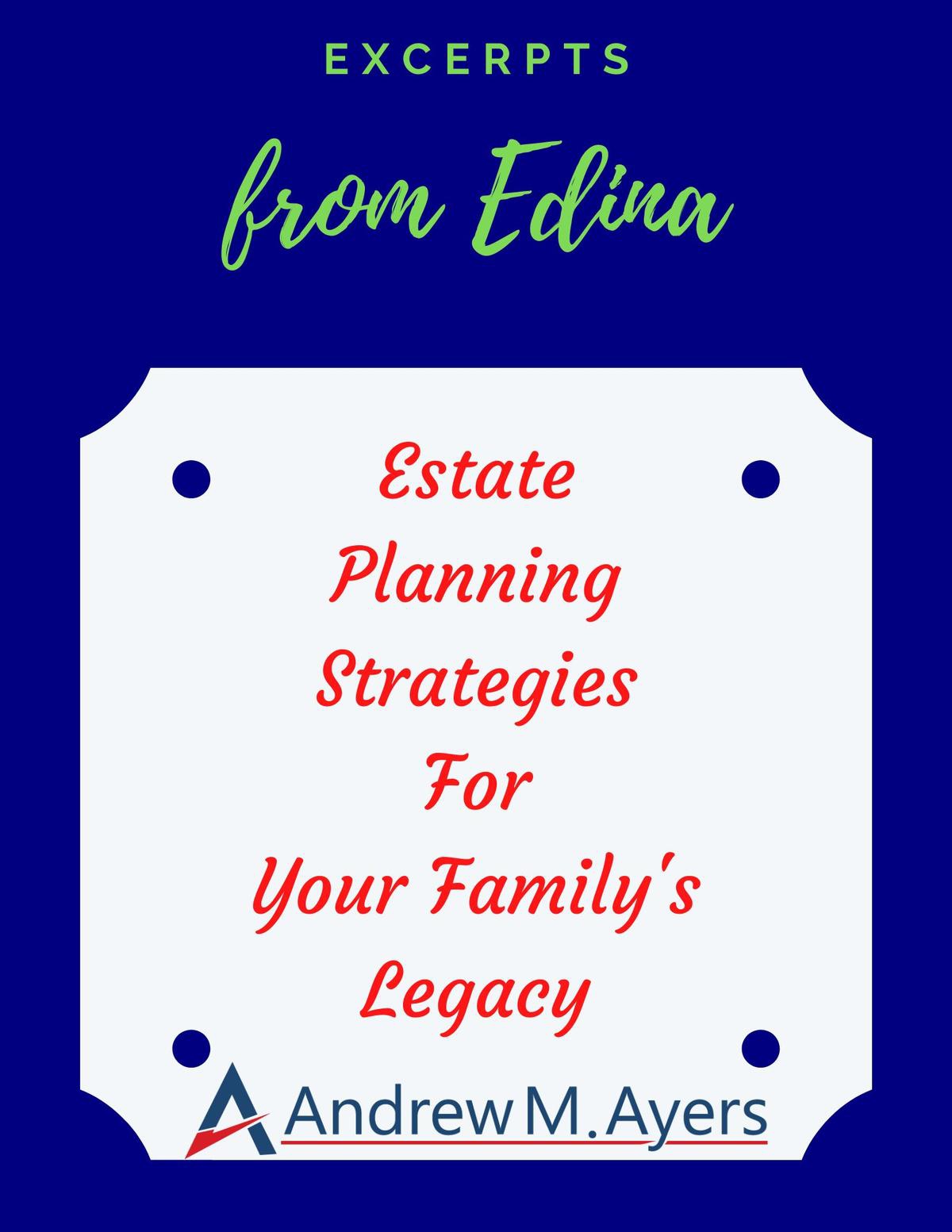 Our series of free reports, Excerpts from Edina, are aimed at helping you plan for your future and protect your legacy through an estate plan.
Many people are intimidated by the idea of an estate plan - they think it's too expensive and that they don't need one. If you don't have an estate plan, you are leaving your legacy to the legislators in your state who have chosen how they think your assets should be distributed. For a small number of people, the laws of their state lay out a plan they are comfortable with. However, many others realize that they aren't forced to accept the plan from the state and can create their own estate plan to protect their legacy.
Some people merely need a simple, will-based estate plan. Others have more complex needs and will need to consider a trust-based estate plan, especially if they have family members who have special needs and are receiving government benefits.
While you've probably heard about and know that you need a will, there are also other documents in your estate plan, like a Healthcare Power of Attorney, a Financial Power of Attorney, a Living Will, and a HIPAA Authorization that may also be used to protect your legacy.
To help you get started, our latest entry into the Excerpts from Edina covers areas like,
Personalizing Your Estate Plan
Planning for Your Digital Assets
Charitable Giving Strategies
Testamentary Trusts for Young Children
Powers of Attorney & HIPAA Authorizations
Whether You Need to Worry About the Estate Tax
Special Needs Trusts
These areas will help you answer some common questions that clients have when they meet with me to help them with their estate plan. This collection of topics touches on a variety of those questions in short chapters designed to work as a quick guide for you to navigate the issues you face without overwhelming you.
Get Your Complimentary Copy
If you'd like a copy of this free report, just fill out the form below and you'll get an electronic copy of the report emailed to you.
If you've got more questions about estate planning or you're ready to get started creating an estate plan or updating your current plan, let's set up a Legal Strategy Session and help you understand the best options for you.
Estate Planning Strategies for Your Family's Legacy
If you'd like a free copy of this 64 page report covering the topics described above, simply fill out the form below and I'll get it sent over to your email inbox.