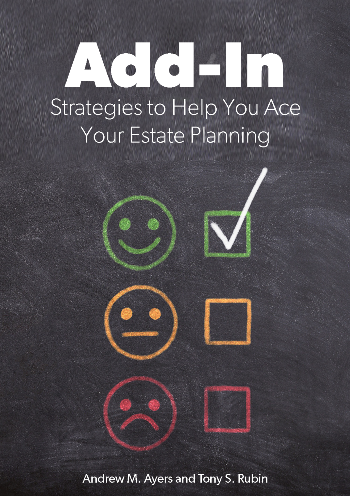 Have you been putting off estate planning because you just can't deal with the thought of adding one more chore to your to-do list? Learn how to make the process as easy as possible with Add-In Strategies to Help You Ace Your Estate Planning, a guide to estate planning I co-authored with Tony S. Rubin, a financial advisor within Wells Fargo Advisors.
This guide is adapted from a series of talks that Tony and I gave during the Fall of 2019 about estate planning. Our goal is to show readers interested in learning more about both the financial planning and legal documents that go into an estate plan that the process is not daunting or intimidating. We know you're busy, and we're here to help.
In between sharing anecdotes about our lives and our professional practices, some of the topics we discuss include:
Why you need an estate plan
Choosing a guardian for your children
The value of adding a trust to your estate plan
What power of attorney designations accomplish
Creative ways to leave a legacy that helps your children or grandchildren with educational expenses
How to include your social media or digital assets in your estate plan
HSA account planning
Beneficiary designations
Real estate planning
Why you should think twice before purchasing document templates online
Get Your Complimentary Estate Planning Book
Want to learn more? Fill out the form below to request a free copy of Add-In Strategies to Help You Ace Your Estate Planning, and a copy will be sent to you.
As you're reading, I encourage you to call me with any questions toll-free at 877-262-9377. I offer all new clients a complimentary Legal Strategy Session to discuss their estate planning needs. I am available to clients for in-person Legal Strategy Sessions from both my Edina, Minnesota and Brooklyn, New York offices. However, if you prefer, we can also meet virtually.